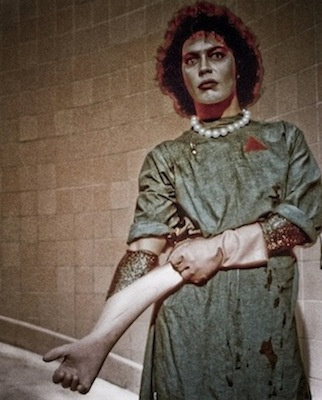 Special to The Standard from
Bella Hasbugs,
NY Times bestselling author of "U.S. Out of My Vagina!".
Emboldened by the radically anti-abortion rhetoric of the Republican Presidential candidates, Red States are tripping over each other to introduce the most restrictive bills on abortion since Roe v. Wade affirmed the constitutionality of the procedure in 1973.
Many states have already instituted a strict ban on abortion after twenty weeks, the point at which some believe the fetus can feel pain and learn to line dance.
Arizona, Texas, and Virginia lawmakers have voted to insert 8-inch ultrasound wands into the vaginas of women seeking an abortion, ostensibly so the woman can see the embryo and decide not to terminate the pregnancy. Virginia State Assemblyman Buster Highman said, "Instead of complaining about this procedure women should just relax and enjoy it."
Not to be outdone by their fellow Creationists, the Kansas State Senate has introduced a bill which would require all abortions to be accomplished by stoning, preferably by the male members of the woman's family.
Alabama is considering a law in which the aborted fetus would be worn around the woman's neck for two weeks. Reverend Ronnie Mund of the anti-abortion group Jesus Hates Baby Killers came up with the idea. "We do that to dogs who kill chickens. Same thing. Teaches them a lesson."
The most controversial bill is currently on the floor of the Missouri State House. Assemblyman Lechter, (R.-Hannibal) has introduced legislation which would require a woman seeking an abortion to cook and eat the aborted fetus. "Perhaps with fava beans and a nice chianti," hissed Highman through his muzzle.
Across the country women's reproductive rights are being challenged. Except the right to bear as many children as she wants, whether or not she has the ability to care for them. With Octomom showing up topless in a recent photo spread and the Duggars (with their nineteen spawn) being the darlings of the morning news shows, this is a right that clearly will go unchallenged.
Comment
Return To Archives
Return To Merry Standish Standard Main Page