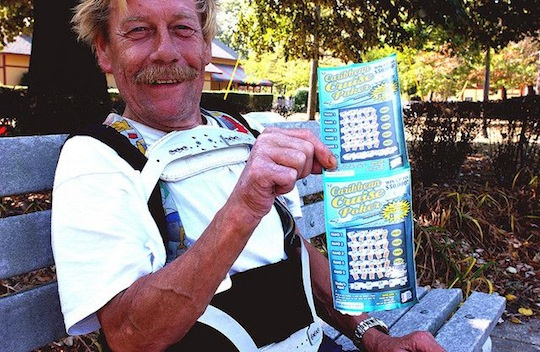 March 31, 2012
Gerber, CA.
Gerber resident Jeb Stumpmeyer will be sharing his lottery losses with over a hundred million other Americans following this weekend's Mega Millions jackpot.
"When you spread it around like that, it's really not so much money," said Stumpmeyer as he bought another ten tickets for the next lottery. "And it's better than having to give half my winnings to the guv'ment."
At first Stumpmeyer couldn't believe he had lost.
"I didn't have one single number right--which means I was only six numbers off the winner. I've never been so close before."
The store owner who sold Stumpmeyer his losing ticket told us to buy something or get out.
Stumpmeyer says it's nice not to have to decide which friends to keep or figure out just the right way to tell his boss to shove it.
"The best thing about losing the lottery is that I'm still the same old person I ever was," he chuckled, before sighing and staring off into space.
Comment
Return To Archives
Return To Merry Standish Standard Main Page